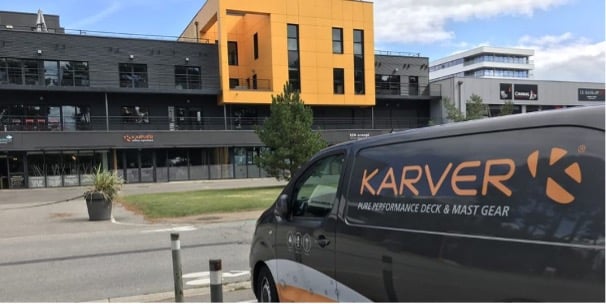 The Karver saga – Episode 3 : 2011-2020, high-end for everyone
KARVER 20TH ANNIVERSARY
To celebrate 20 years ofKarver, Tip & Shaft traces the history of this 100% French deck equipment company, from its creation, in 2003, to today, with its ups and downs, its successes and its failures, its teams, its racers, its products, its acquisitions, its key moments… 
This third episode tells how the brand managed to stay at the top in offshore racing, allby expanding into the pleasure boating market
HIGH-END FOR EVERYONE
Managed to overcome the financial crisis of 2008 and then the failure of the K 650, Karver, is in 2011, after eight years of existence, a brand well established in the world of deck equipment, mainly in offshore racing.
In 2012, the company released its second version of furlers. "The competition pushed us to react, to update our first version launched in 2004. This V2 was 20% lighter and above all much smaller in size", underlines Marin Clausin, its founder.
The 2011-2020 period is also marked by the launch of numerous products, often rewarded with innovation prizes. We can in particular name KJH jaws handle (2012) or even KJ jammers (2014) which make it possible to hold very large loads and equip almost all Imoca. It was also during this period that Karver became the lock specialist.
In 2018, the company undertook the second acquisition in its history, after the acquisition of Grec Marine in 2011. Pontos, a company created in 2009 in Saint-Malo and specialized in winches, being put into liquidation, Karver candidate to take it over andpockets the bet.
The brand thus adds to its catalog the very innovative and efficient 4-speed winches developed by Pontos. "This acquisition marks a real turning point for us, says Tanguy de Larminat, general director of the company. We had to increase capital by integrating players from outside Karver. The Normandy region and business angels have entered the capital. The company became more structured and also more profitable."
A foot in Normandy, another in Brittany
Karver, until now mainly known for offshore racing, also opens up more to pleasure sailing with this buyout. "At the start of the 2010s, yachting represented around 10% of turnover, it will increase to more than 30% in 2020", confirms Tanguy de Larminat. "Karver products have long been seen as reserved for offshore racing and large boats. We had difficulty getting rid of this very top of the range image which also makes us famous", indicates Jean-Philippe Connan, deputy general director.
To further reach this clientele, the Norman company ensures that all deck equipment are available for pleasure sailing, with the desire to make navigation simpler, more fun, safer. "We moved from a model purely dedicated to racing to one where we became present in three markets : offshore racing, super yachts and yachting. If we want to continue to develop very high-end products, intended for a few customers, we must counterbalance by working in a more industrial way on other products", explains Tanguy de Larminat.
In the summer of 2019, Karver brought a long-standing project to fruition by settling in Lorient La Base. "It was a good time, just before Covid, says Marin Clausin. We were well aware that we were far from the action in Honfleur. This is why we opened a sales office in Lorient, while manufacturing and assembly remained in Normandy."
For Tanguy de Larminat, this presence in the heart of Brittany Sailing Valley was essential : "What makes the difference is proximity to customers. The Lorient ecosystem is extremely dynamic and it is very important to be on site, which allows us to process urgent requests more efficiently. This office is also a showroom, the door is open for skippers and cruisers who can come and see the products. They understand how they work and can therefore use them better. This contributes greatly to Karver's success."
>>> GOTO EPISODE 4/4 >>>>
<<<<< BACK TO EPISODE 1/4 <<<<