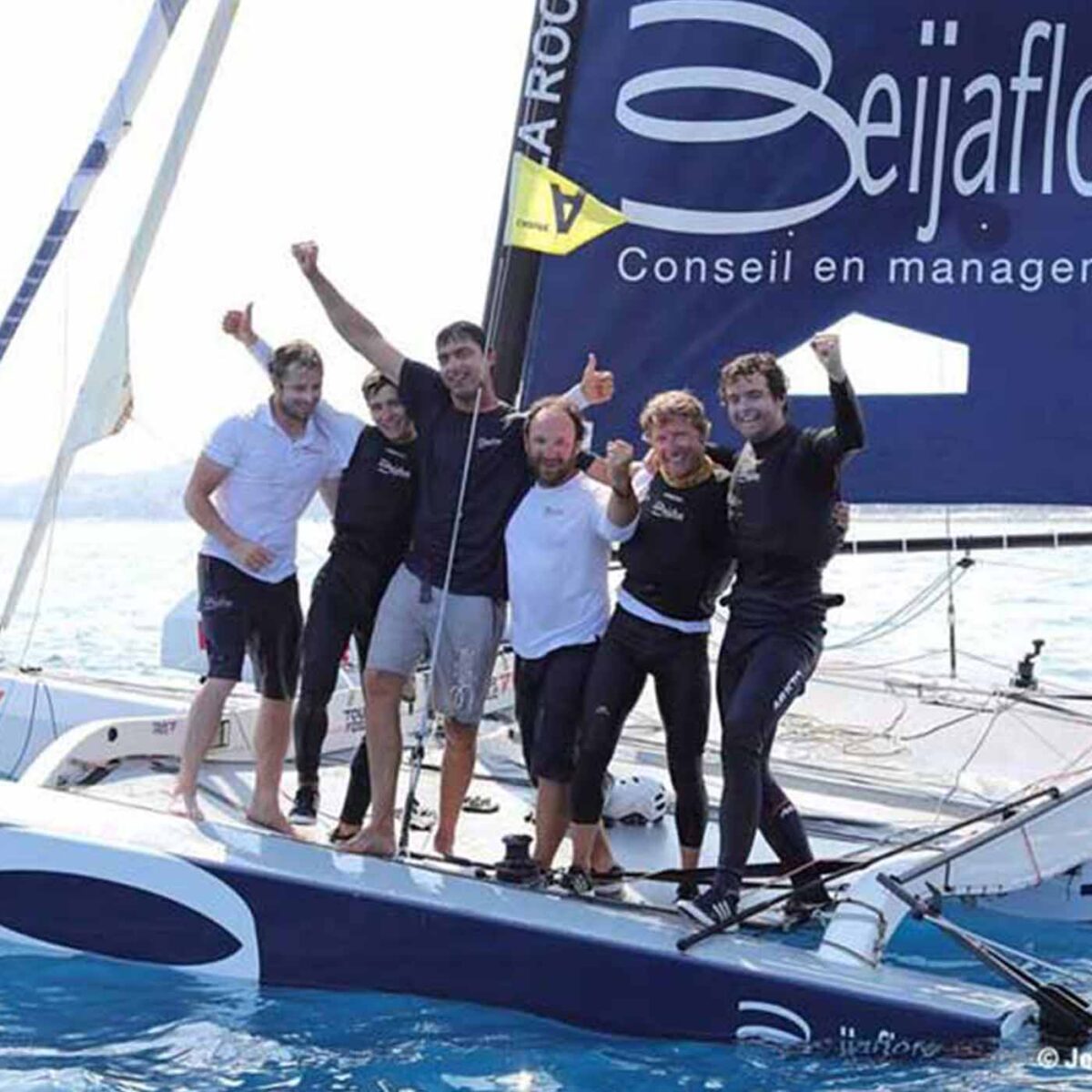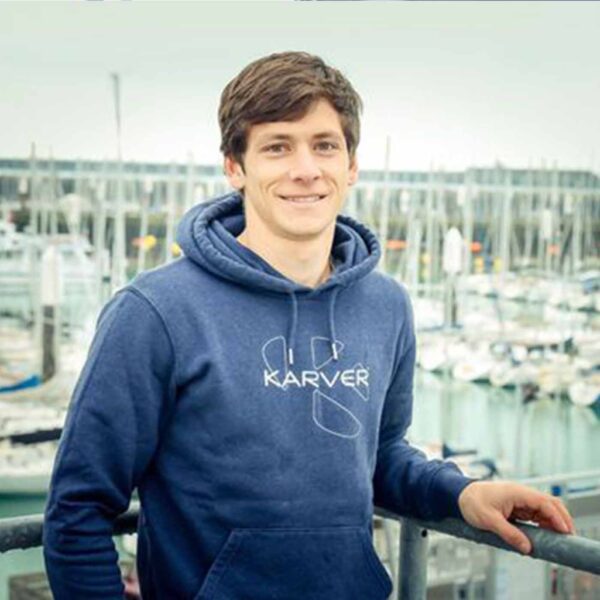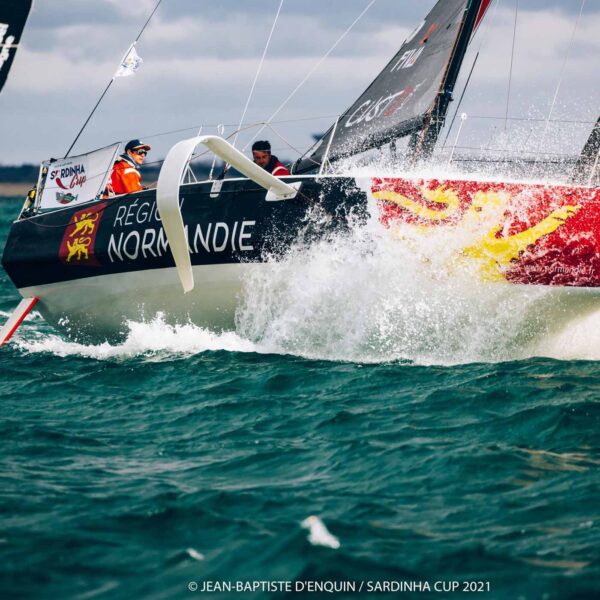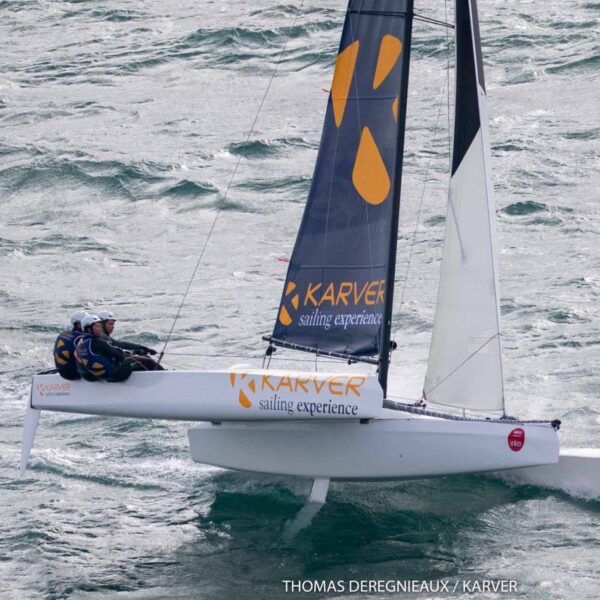 Portrait – Guillaume Pirouelle, professional skipper and Karver engineer
If he is not yet known to the public, it could not be too long. When you "Google" his name on the internet, his profile already appears between a certain Tom Laperche and the very famous Yann Eliès. We met Guillaume Pirouelle, engineer at the Karver engineer office for two years, but also new skipper of the Figaro "Normandy Region", on the eve of starting his first full solo season.
On the water and in the office, excellence every day
He says he is rather shy and in his remarks it is the word "luck" that comes up most often ? Don't get us wrong, if he has the humility of truly great talents, the journey of Guillaume Pirouelle owes nothing to chance. A favorable family environment, a well-made head, coupled with a spirit of competition and an unfailing determination, are much more surely at the origin of a trajectory so far perfect.
Mens sana in corpore sano
The native of Rouen was immediately immersed in the sailing world. If his father is a fan of windsurfing, they acquire an Optimist to occupy the two months of summer holidays for little Guillaume, who of his own  "hook up right away ». So, when the family moved to Le Havre, no doubt about what would occupy his leisure time, go to the local Sailing Club. In winter, on the commercial dock, it is sometimes necessary to remove the ice from the bottom of the Optimist, but this in no way dampens the young applicant who discovers the desire for competition.
Champion in all youth categories
It is therefore the Normandy Sailing League which welcomes him with a certain Francis Le Goff as his first trainer. The latter being today race director of the Transat Jacques Vabre and the Route du Rhum, it is difficult not to see in this, a posteriori, a sign of destiny. But no question of skipping the steps. The different young categories are skimmed in Optimist, then in 420 and finally in 470. If he remembers, and does not fail to thank, his successive coaches, it is above all his competitors who will remember him for a long time. At the steering gear of boats led in duo with Valentin Sipan, the young titles accumulate : champion of France, Europe and even the world in 2015.
From the Optimist to the Diam 24 without hesitation
If behind the non-qualification for the Olympic Games, then for the Youth America's Cup necessarily points to an ounce of disappointment in the born competitor, juggling a career as a professional sailor and studies do not leave much time for regrets. Until the baccalaureate first, then at Insa Rennes for his engineering studies then, he certainly benefits from an adapted schedule but trips to La Rochelle, Brest, even La Grande Motte are added to the hours of training. However, his rare moments of leisure, he spends them on the water on a Kite-Surf board. Having multiplied experiences on all types of support since his childhood in Le Havre, he has this ability to "get used to any type of boat easily ». Thus, in 2016 he was on the diam 24 of the Normandie Elite Team during the Tour de France à la Voile. The key is a first stage victory in Spain which will not go unnoticed. Three exceptional years on Beijaflore followed, with consecutive results : 3rd, 2nd and finally winner of the 2019 Tour Voile !
Karver and high competition
2019 also marks the end of his engineering studies, concluded with a 6-month internship that he is "lucky" (again!) to do at Karver. A company "which suits him well", with a "nice team" that he has known for a long time because they already support him in the 470 by supplying fittings, and for which he is "quite proud" to work. An internship that is conveniently transformed into a permanent contract in 2020. A year of transition which sees him focus alongside Marin Clausin, on the Karver winches, study the slightest possible improvement, follow suppliers, orders, after-sales service. For the founder of Karver, first and foremost a sailor himself, of course, integrating a skipper of such a level into a company that has had offshore racing in its genes since the first hour, is obvious. It is, moreover, anything but a coincidence that 100% of the members of the design office sail. Because it is on the water, with the racers, that Karver first imagines, then creates, experiments, validates, and improves his deck and mast fittings, which have been so innovative for nearly 20 years.
From Olympism to the open sea
The idea of making the leap between dinghy sailing and ocean racing then "runs through Guillaume's head.  He who as a child replied, "never", when we spoke to him about the Vendée Globe, and who until then had "never been on a cruiser, working at Karver opened my eyes through all its deck fittings products or rigging, made me curious about this other world ». It all started with a call from Alexis Loison who is looking for a young Normand to take over from the region's Figaro. If the selection period is stressful, this time is the right one and here is Guillaume leaving for three seasons aboard the black and red Figaro Bénéteau 3. The first year, of "transmission", double-handed with Alexis Loison began with a very fine Sardinha Cup, then very quickly, it was the double-handed transatlantic race, a completely new format for Guillaume. New areas, forecast, strategy, sleep, financing, make projects more complex, but he learns quickly alongside his mentor, who has already completed 16 seasons in Figaro and for whom this is his third transatlantic race. Result, a very good fifth place, but which almost leaves a bitter taste to the duo, who sees the third cross the line only a few minutes in front of him.
Figaro class, the ultimate requirement
On board the one-design "there aren't enough Karver products" to his great regret. Only the furler, the winch handles and a set of blocks for the headsails. The exceptional level reached by this class, which brings together the elite of French offshore racing, deserves more, without increasing the budget. The small custom Karver shroud/lower shroud adjustment battens were also much envied.  The furler sheave door imagined by Guillaume to really reduce friction on his one-design to a minimum, has been adopted by his competitors and even the Ultims trimarans. Every detail counts when the level of requirement is at its maximum, because in Figaro "the pace is crazy, there is zero gap between the boats, all in contact after 15 days of racing, crazy intensity, without any moment of respite ». Combine the whole over an unusual period when you come from dinghy sailing : « After a week you say to yourself that you are halfway through the course, when in reality there are more than two thirds left ! » A long-term apprenticeship that will certainly prove useful within the company.
Figaro Solitaire Objective
Between a second transatlantic race in the fall, on a Class40 this time during the Route du Café, and a Figaro season which promises to be very intense, Guillaume has returned to Honfleur and his place at the Design Office. The pace is intense between work and training sailing, but "I like it, I'm young, I have energy, so it's now or never" replies one of the youngest members of the Karver team, 27 years old. So the Normand regularly goes into exile in Brittany, in Port La Forêt, in "the valley of the fools ». Fortunately, Karver Lorient's office and team are never far away. Tanguy, Aloïs, Cédric and Christophe, who never miss an opportunity to sail, are there in support, boots and raincoats ready to support all the regular racers of La Base de Lorient. « Sailing in competition opens your eyes to all possible sources of improvement", so in the Karver – skipper tandem, everyone is a winner. On the whole French Elite Offshore Racing Championship 2022, and more particularly on Solitaire du Figaro, that's all the good we wish the tandem.
Pictures : JM Liot / Philippe Breard / Thomas Deregnieaux / JB D'Enquin / DR