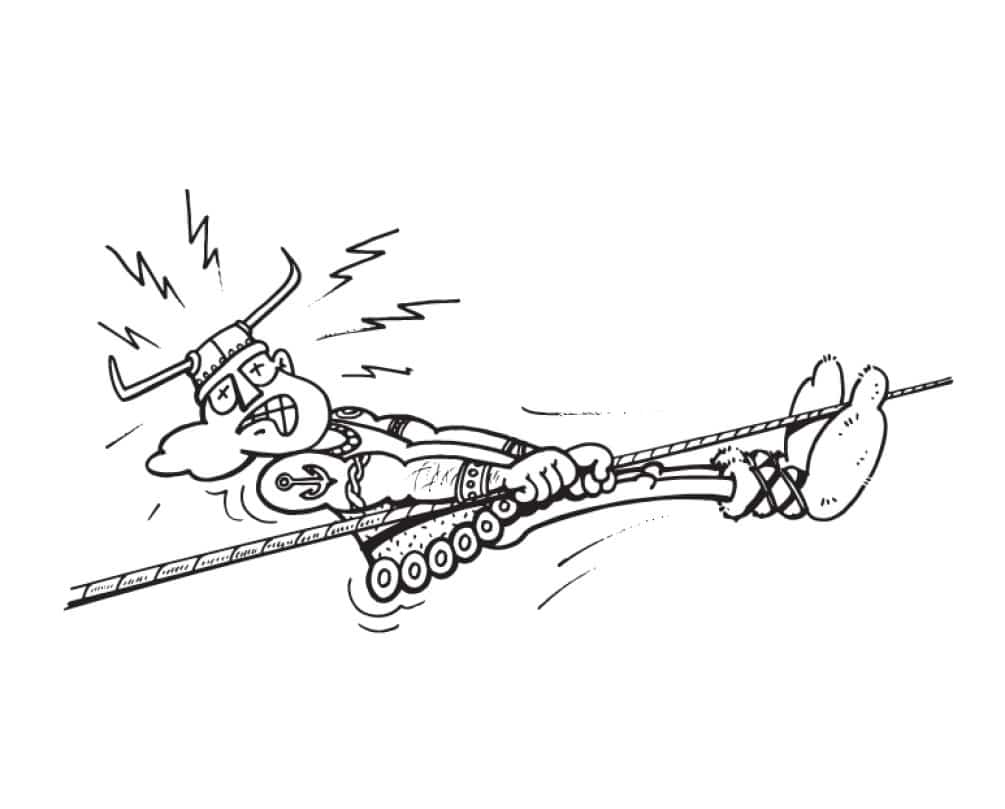 School case: Solutions for winches when too hard to use
Many sailors (boaters or sailors) complain about the undersizing of their winches. They can't or no longer manage to tight up lines in the last meters of a genoa sheet or a mainsail halyard.
POSSIBLE SOLUTIONS
In most cases, it would enough for sailboat manufacturers to supply larger winches and take care of the deck and mast fittings to reduce friction. These 2 simple actions would avoid asking you the question of the day: how am I going to improve this? and incidentally? ideally without breaking the bank !
Of course, Karver has an answer to this question, but let's first review the available options .

We have listed 5 possible solutions:
Fed up. I'm selling my sailboat and buying myself a motorboat.

It's a bit drastic but it's still an option.

You electrify your winches either by replacing your current winches with electric winches or by adding a motor when possible…but this is rarely the case.
You use an electric winch handle (wired or wireless)
You change your winches by one or two larger sizes
You replace your winches with Karver Power 4-speed winches of the same or smaller size (or KCW winches for smaller sailboats)
Electrification? Yes but not only!
It is not a question here of convincing those who want to go electric not to do so. It is a personal choice that cannot be discussed. Just think that this question must be addressed without forgetting the costs linked to assembly times, modifications to fittings (cabin ceilings, etc.), running cables, the additional battery and the appropriate means of recharging ( alternator, wind turbine, solar panels, hydro generator, …).
All solutions, including electrification, are relevant EXCEPT one : above all, do not change your winches for a larger size. This will not have the expected effects and we explain why. On the other hand, if you decide to keep a manual winch, the most relevant and economical solution is to use a Karver Power winch.
IT'S ALL ABOUT MAX POWER
Without going into very technical details, the explanation is easy. All winches are marked with type number 40.2. This means it is a 1:40 max ratio, 2 speed winch. If you have a winch like this commonly called "size 40", it means that if you apply 1 kg in the handle, the winch is able to pull 40 kg (1:40). If you decide to change your winch from 40 to 46. The power gain will only be 13 %. It will be 23% if you change it to a size 52. Despite the expense, you may feel little or no difference.
The particularity of a Karver Power winch is that in the size of a 40 the power developed is 110. That's why we called it KPW110. Thus, without changing winch dimensions, you have a winch 3 times more powerful ! However, whatever the maximum power of your winch, the load present in your sheet or your halyard does not change. Assuming that you have a load of 600 kg in the sheet, you will have to apply an effort of 15 kg for a size 40 winch (600 / 40 = 15) but only 5 kg for a Karver KPW110 winch (600 / 110 = 5.4).
AND WHAT ABOUT PRICE?
As for the price, the good surprise is that our Karver winch costs about the same as a larger standard winch ! …and as you remain on the same size as your current winch, installation will be all the more simple. As we are clever, we use the same fixing holes as a big American competitor… And even if you prefer Italian, Swedish or English winches, you should normally come across at least one identical fixing hole ! If you want to know what the price of a competing 110 winch is, you will be directed to winches from Super Yachts which cost around 5 to 10 times the price of ours. We are the only manufacturer in the world to offer such powerful winches for all sailboats from 5 to 15 meters.
In other words, for a similar expense you have a winch that allows you to force 3 times less and therefore sheet in that damn last meter of genoa tension without any difficulty ! The whole family will now be able to winch effortlessly.
To try it is to adopt it.
It looks amazing but it works ! I invite you to read the many testimonials from our customers on our website. If you are near one of our dealers who have a display, go and try them to get your own idea. Our Lorient showroom also has one.
What about KCW Compact winch?
To be complete, we have to talk about our Compact KCW45 winch. If the KPW Power range has 3 models equivalent to sizes 40 (1:110), 46 (1:130) and 52 (1:150), the KCW is a single size. Its dimensions are close to a size 20 or 30 winch (depending on the brand) but it is capable of developing 45 kg (1:45) while being at least twice as fast as a size 45 winch. It is an incredible winch for all small sailboats that are equipped with size 15 to 40 winches today.
Want to know more?
If you have already visited our stand at the Paris, Mets, Düsseldorf or La Grande Motte boat shows, you may have noticed 2 weights : 1 of 4 kg and 1 of 12 kg (3 times heavier). The feeling of 3 times less effort is exactly that. You can experience it at home with bottled water.
Here are few videos about the Power winches : Video#1 – Video#2 – Video#3
 Rest assured all this is very well listed on our You Tube Karver Sailing channel.
Finally, we invite you to read our KarverPedia article "Choosing your winch : Elements of understanding »
And if you need additional information, just contact us : CONTACT.